Your oasis for all seasons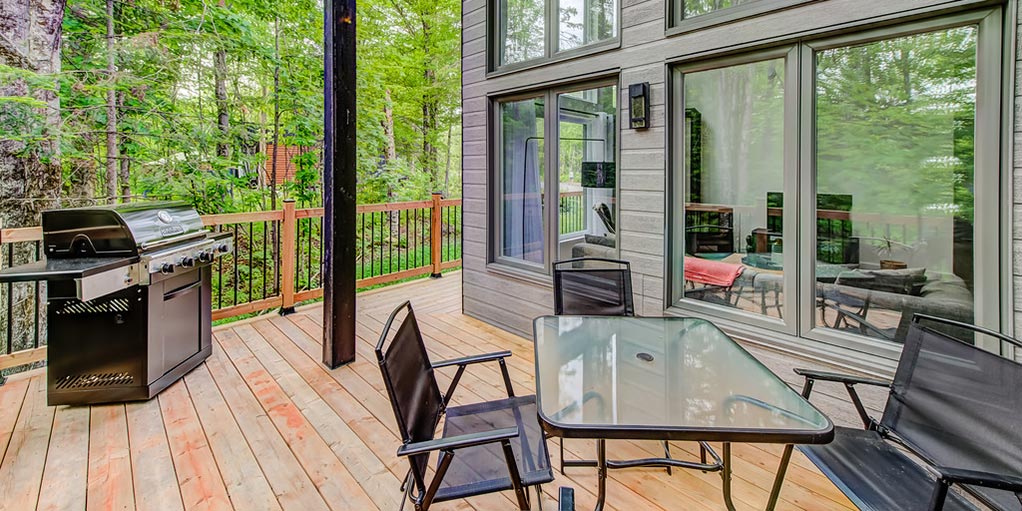 The Domaine du Grand Portneuf is the perfect resort to get away from it all and recharge your batteries. Enjoying life has never been easier! 
Located in Pont-Rouge, opposite the prestigious Le Grand Portneuf Golf Course (36 holes), the domain boasts 40 tastefully appointed hotel villas perfectly integrated into the wilderness of this immense wooded area criss-crossed by the Portneuf river.
Available to rent for a weekend getaway or a few days, our villas also charm snowbirds who don't want to compromise on their Nordic quality of life by staying there for a few months.
The condominium also has permanent residents. Whether you are first-time buyers, families or young retirees, you will find an inspiring environment where you can relax and enjoy common facilities, just like in a hotel.
This recreational tourism area can also represent a business opportunity for you. Buying to rent is proving to be a promising option to be carefully considered. 
Whether your project is to own a villa or a plot of land, our investors observe an unfailing enthusiasm for life in the heart of nature in top-of-the-range accommodations.
Domaine du Grand-Portneuf is for those whose time is precious and who want to enjoy life.
Whatever your intentions and your needs, we are waiting for you!
RENT THE VILLA OR COTTAGE OF YOUR DREAMS
Fancy a getaway? Treat yourself to a stay in one of our villas, in simple formula or in a package, and discover the attractions of the Domaine and the beautiful Portneuf region, a few minutes from Quebec City and not too far from home.
Whether you prefer the experience of the mini house or the spaciousness of our villas, each unit provides privacy and tranquility, in the comfort of a modern construction. Like a huge hotel with a private entrance and a guaranteed breathtaking view of a beautiful forest in all seasons.  
Choose your decor, grab your suitcase and come enjoy this larger-than-life hotel that redefines the concept of a haven of peace.
In mild weather, after a walk on our shaded trails leading to the Pont-Rouge river, dare to take a dip in the pool or relax in the all-season sauna and spa. Then, have your aperitif in the service building while playing a game of pool or regain the privacy of your lodge. 
Whether you are a nature lover or looking for exceptional moments, we have something to amaze you on site or nearby. Golfers, hikers, cyclists, mountain bikers, canoeists, quad bikers, snowmobile riders, cross-country skiers or U.L.M enthusiasts, book your accommodation in simple formula or in a package and plan your stay. (Nearby activities, photos and useful links, etc.)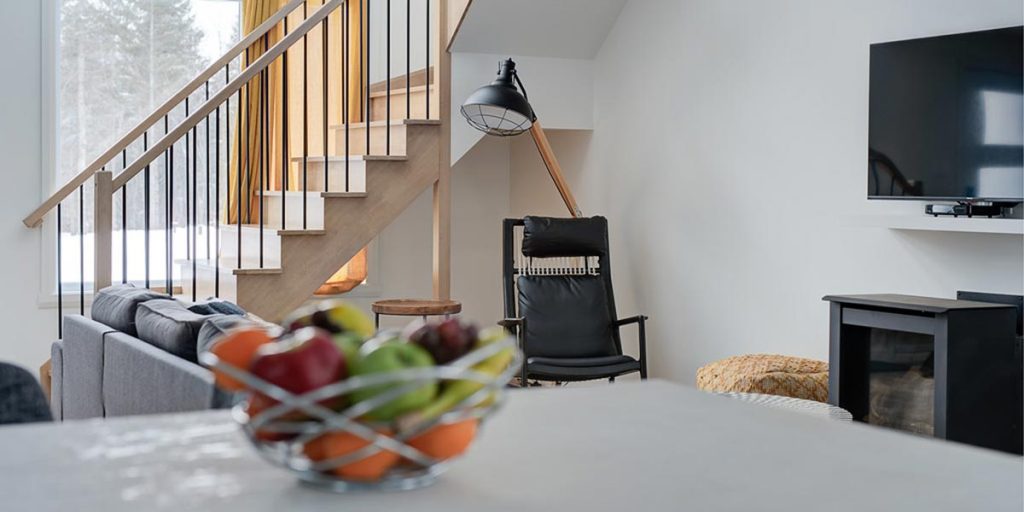 At all times! Conditions apply.
A MULTITUDE OF NEARBY OUTDOOR ACTIVITIES
Buy for you or buy to rent
Become the co-owner of a recreational tourism area that has it all.
Whether it is to live there permanently or to buy the vacation home of your dreams; whether it is a rental villa or a plot of land, anything is possible. Ultimately, approximately 100 lots ranging in size from 5,000 to 15,000 square feet will be built in a protected natural setting. 
Living at the Domaine means taking advantage of condominium living, which allows you to enjoy common facilities and tailor-made services in complete freedom.
Comprising a private part, each building is served by the aqueduct and the sewer. Common costs include, among other things, snow removal as well as the maintenance of the wooded area and the recreational services building overlooking an outdoor swimming pool, sauna and spa.
If you are considering buying a rental property, we offer a full rental management service. From promotion to customer service, the turnkey formula is the most popular. We will be happy to provide you with details on request.  
The quality of our recreational tourism offer is confirmed, with an occupancy rate approaching 90% in the summer of 2020.
Home buyer, your investment includes:
Do not hesitate to contact us: